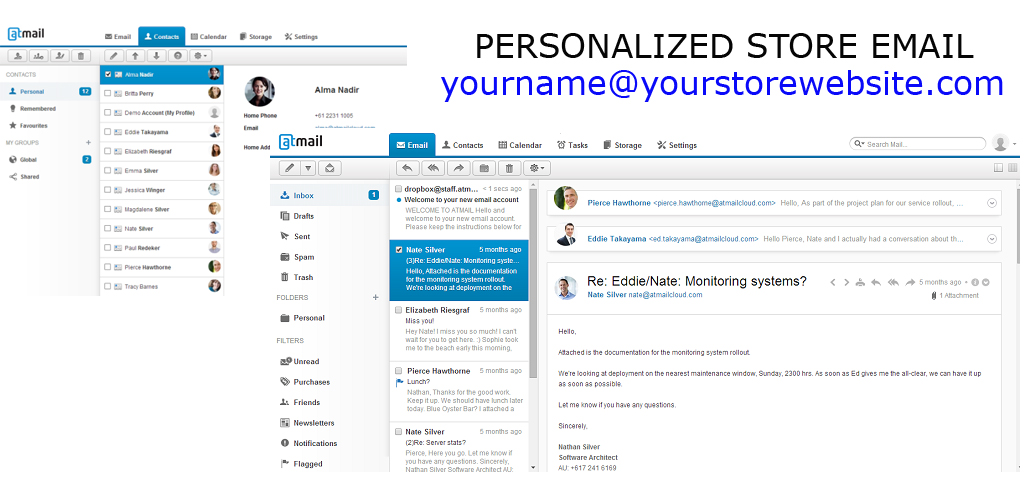 Store Personalized Email
INCLUDED at no extra charge with the Online Marketing Service!
Get personalized email for your store. You and your chosen staff can have emails such as yourname@yourstorewebsite.com. Get the professional look you want and advertise your website with every email. yourname@gmail.com does not represent your business in the way that yourname@yourstorewebsite.com can.
We offer a fully-functioning Webmail client that offers a simple and reliable interface to manage your email and contact information.
Email Client Benefits
Faster – Better hardware and built-in caching allows faster service/decreased load times than other Webmail clients.
Contacts – We offer the ability to create custom contact groups and add photos to individual contacts.
Active development –  actively developing software to remain current and relevant. Our email client's sole focus is on email so its full attention is on product development for Webmail applications.
Larger uploads – Offers the ability to upload attachments much larger than former versions of Webmail, and allows up to 30MB through the web browser interface.
Mobile UI – Comes with a mobile user interface that you can use with any modern smartphone.
Click & drag attachments – When creating a new email, you can easily drag a file from your computer into email to automatically attach a file.