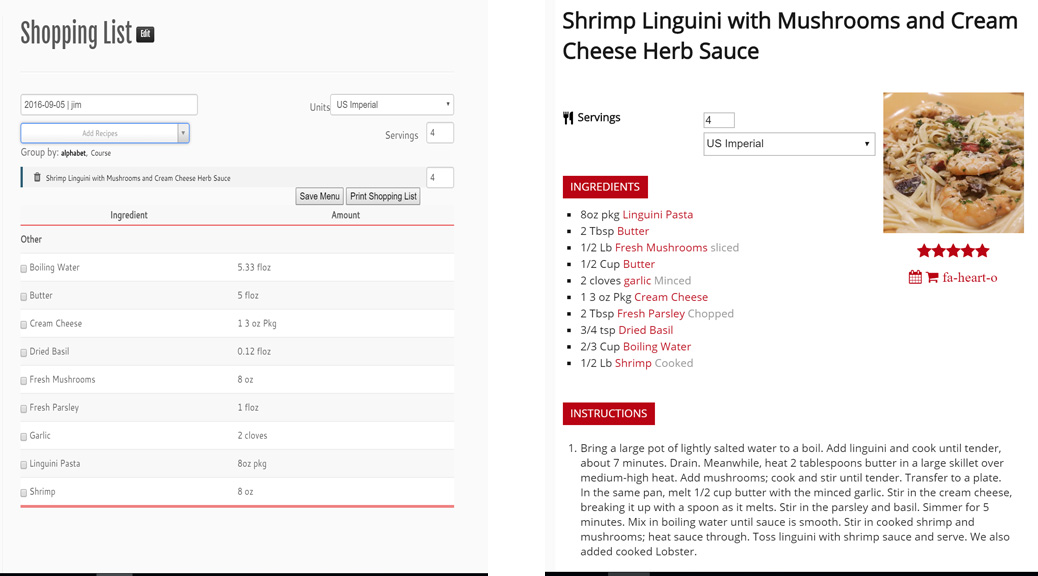 Recipes, Shopping Lists, and Weekly Meal Planners
INCLUDED at no extra charge with the Online Marketing Service!
Add custom recipes where your customers can create shopping lists and a full meal plan for a week. They can print the shopping list or access it from their phone or tablet and buy all the items from your store!
Optimized for Google
Your recipes will automatically be formatted with metadata that makes your recipes shine in Google Recipe Search, without requiring any input from you.
Stand out from the crowd
Don't blend in with the rest. Make sure your visitors will remember and recognize your recipes by giving them a unique look and feel.
Impress your visitors
The ability to adjust the ingredient amounts to the serving size they need and being able to print that adjusted recipe without any clutter will definitely impress your visitors and make them come back for more.
Responsive and looks great on all devices
Your recipes deserve to shine on whatever device your visitors are looking at them. The responsive mobile friendly layout makes sure your recipes can be accessed on smartphones, tablets and desktops without you having to worry about it.
Get your customers involved
Engage your visitors and build a real community by letting them submit their own recipes.  Easy recipe add form inlcuded.
Add more to your customers shopping cart
This also includes user menus with a shopping list generator and a Full fledged meal planner with shopping list.  Your customers will add recipes to their shopping list and check off that list as they buy from you. With the meal planner, your customers can plan their breakfast, lunch, and dinner for the entire week.  When they are done they can add the entire week to the shopping list!