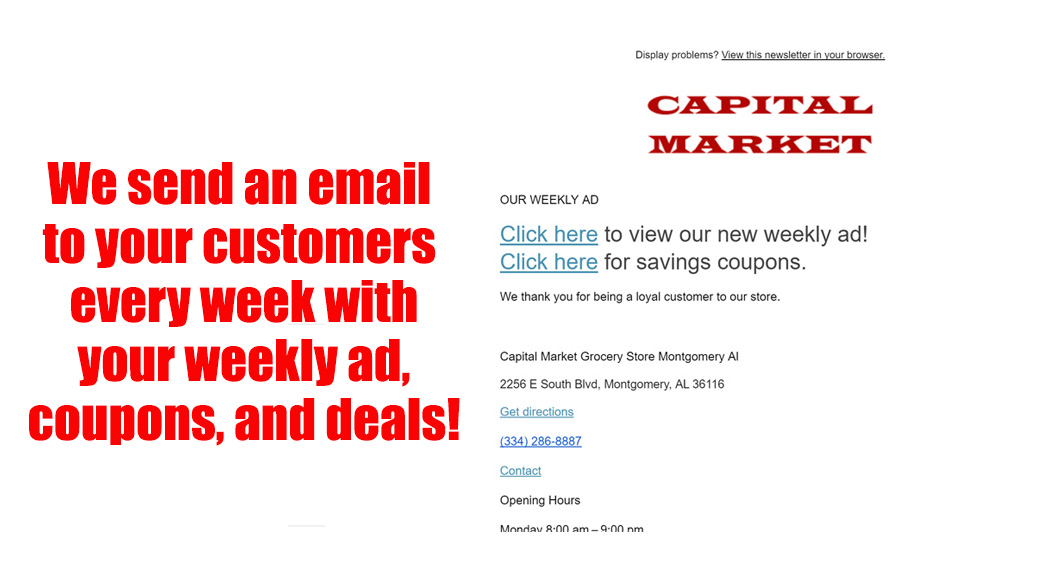 Grocery Store Email Marketing Service
INCLUDED at no extra charge with the Online Marketing Service! Grocery store email marketing is what will keep your customers coming back every week!
Customer loyalty and retention happens by staying in front of your customers regularly. We send your customers an email every week with your new ad, coupons, and deals. We keep your customers informed.  Keeping them engaged and coming back is key. Don't be left behind… Grocery store email marketing is the key to keeping your customers loyal. We also use Facebook to get customers to sign up for the email service. This is accomplished using the Facebook Management and Reputation Management Service.
How does it work?
The email sign up is on your website.
Visitors sign up to receive your weekly ad and specials, or win a shopping spree or other offer.
Data is collected and stored on your website's back end control panel.
The weekly ad email is automatically sent to their email alerting them to your ad, menu, and specials for that week.
We provide you with many ways to get customer emails.  You will get results!