Manual Grind Log
You have alot to lose! Do you really want to take the chance on the FSIS finding your store not compliant? See the Manual Grind Log information after our Special Valentines Day offer.
SPECIAL NO CONTRACT PRICING: Sign up now and get Grind Log Pro for only $364 /yr. That's only $1.00 per day.
You can start using Grind Log Pro today!
DETAILS ON THE FSIS' FINDINGS ON MANUAL LOGS: FSIS used a Centers for Disease Control and Prevention (CDC) study of ground beef recordkeeping practices. The study found that 74 percent of chain retail stores and 12 percent of independent retail stores kept grinding logs. Of the stores that kept grinding logs, the study reported 78 percent of those logs as incomplete. The recordkeeping distribution of large entities based on the survey results is approximately 16 percent complete (74 percent*(1–78 percent)), 58 percent incomplete (74 percent*78 percent), and 26 percent no records. For small entities, the distribution is approximately 3 percent complete (12 percent*(1–78 percent)), 9 percent incomplete (12 percent*78 percent), and 88 percent no records.

See complete details here: FSIS USDA Rules and Regulations.
(see how to fill out the manual form below)
(Decipher the 44 digit barcode as shown below, and write the results on a form)
The bad news: This information is pulled from a 44 digit barcode on the case. To break down this 44 digit barcode and write it on a form every time you perform a grind is a tedious time consuming task. If your store adds trim from lugs or if you allow case pulls the form doubles in size to track that info (see below).
See the official final record keeping requirements:
Rules and Regulations – USDA Food Safety and Inspection Service
Here is what is needed:
The date and time of the grind.
Manufacturer Name of Source Material Used for Product Produced.
Supplier Lot Numbers / Product Code and/or Pack Date of Source Material Used.
The Establishment Number providing source material.
Date and Time of Grinder and Related FCSs Cleaned and Sanitized.
[sdm_download id="1383″ fancy="1″ new_window="1″][sdm_download id="1382″ fancy="1″ new_window="1″]
How to read a GS1 128 Barcode: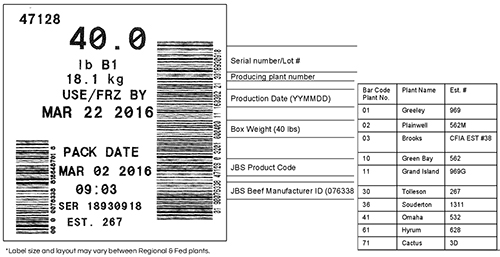 How to fill out the FSIS USDA Manual Form: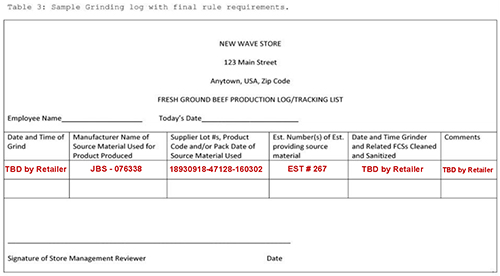 If you add trim or allow case pulls your form will look like this: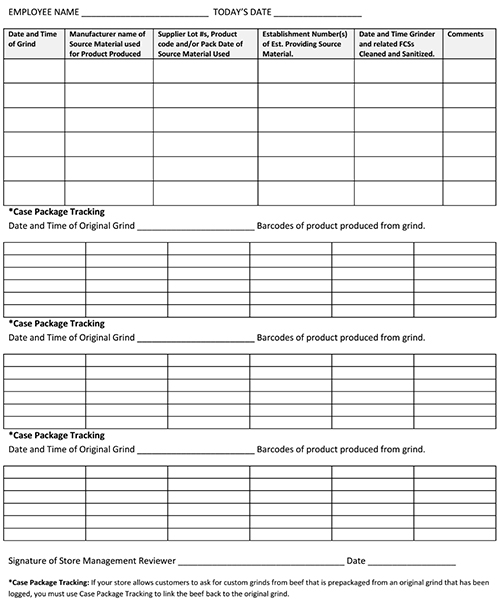 Don't take a chance on the FSIS USDA finding you not compliant.
To cut your time in half and save lots of money each year, use the electronic grind log solution. Paying your managers and employees to write down the information on a log is costly by being time consuming and taking a chance on the information being incorrect and illegible.