ELECTRONIC GRIND LOG – THE AUTOMATIC WAY:
(The establishment number is added and the barcode is scanned. The info is placed in the correct fields for you.) EASY AS CAN BE!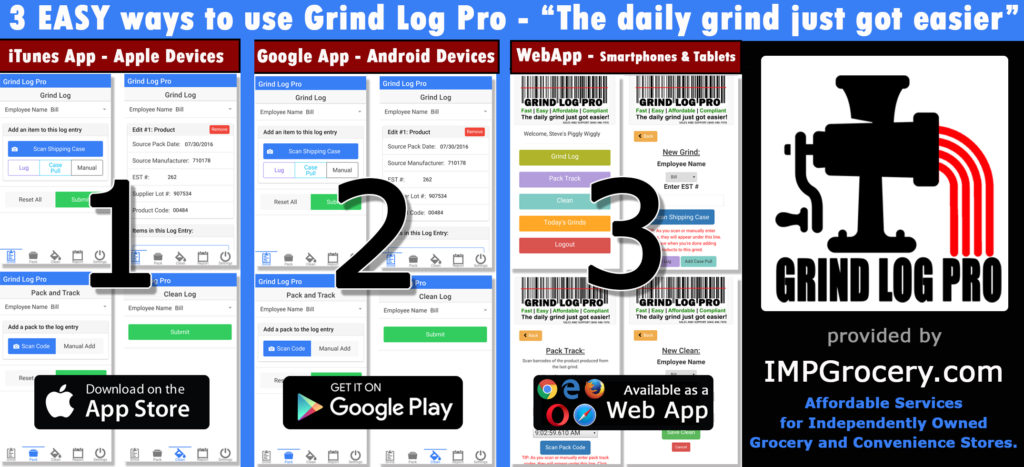 Sign up now and get Grind Log Pro for only $10.00 a week

(per store – You can have as many devices or users on Grind Log Pro as you want at no extra charge
!)
Here is the great news! The revised USDA tracking list only has 5 requirements. 4 of these can be pulled from the barcode of the Case using the GS 128 barcode on the case.  The FSIS USDA does not require BEEF WEIGHT, PRODUCT TYPE, OR EXTENDED STORAGE. Keeping the records for 1 year is all that is required now.
SAVE TIME AND MONEY WHILE STAYING COMPLIANT. 
Simple and Quick!
Reports on demand.
No need to sync data.
No long term contracts.
No programming necessary.
No need to fill out grind forms manually.
No need to purchase expensive scan guns.
Works with Android, iPhone, iPod Touch, smartphones with WIFI and camera.
If your wifi does not work in the cooler don't worry! Grind Log Pro saves the grinds and cleans on your device and will upload them automatically as soon as the phone connects to WIFI or cellular service.
FULL SUPPORT any time you need it!
We use the latest requirements of the FSIS USDA Grind Law Enforcement.
Grind Log Pro Technology and Devices
Use an Iphone – Android – Ipod – or most Smart Devices with camera.  It uses the latest cutting edge WebApp technology that allows all devices to use it without a literal app or download our NEW Android or Iphone app.   It uses Wifi or your Cellular service. If you do not have service while in the cooler or meat department, not to worry, it saves the information on the device and uploads automatically when it connects.  If something happens to your device you are in luck!  You can use the any phone temporarily until you replace your device.