Grind Log Pro App Release
We are super excited to announce our new Grind Log Android and Iphone® App that will go live next week is live NOW! We have listened to every request and all the feedback, and we delivered!  The new Grind Log Pro app will have all the great features of the web app, but will have a new fresh easy to use front end, and cool new requested features!
Grind Log Pro App – BRAND NEW!
We are excited to announce we have just launched our new Grind Log Pro Android® App and iPhone® App!  It is super fast and super easy.  It has LIVE barcode scanning, 1 click grind logs, and 1 click clean logs.  You are going to love this new sleek design, and you will be blown away by how fast it scans and records the data. SUPPORT is just a button click away on the app.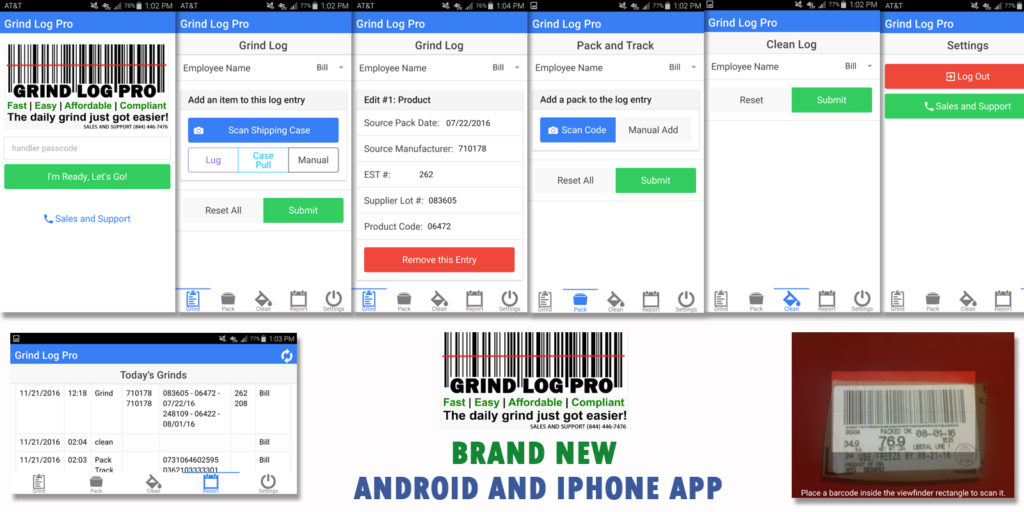 NEW – A Super-Fast Barcode Tracking Scanner – Built In
It has a super fast barcode tracking scanner that seeks out the barcode and immediately inputs the correct data into the necessary USDA FSIS required fields.  It is so fast and so easy! One click and you have the data immediately. It works with WiFi and/or Cell Service.  If you do not have either in your cooler or meat department, don't worry, it saves the info on your device and immediately updates your records as soon as it accesses Wifi or Cell service.  We will be uploading a video demonstration very soon, and we will have a demo login for you to try out for yourself.
The menu on every screen
The menu is sleek and tucked away nicely on the bottom of the screen for easy access to anything you want to do.  Every click brings just what you need to your screen so you can work faster and more efficiently with no down time.
Larger fields and buttons
We have reduced the amount of fields and buttons so we made the necessary fields larger so you can easily see them and respond immediately without searching for what to do.
Faster
Less button pushes means less time using the device.  Each press of a button was automated to accomplish more tasks with one push. This works amazingly fast and does the entire scan and the barcode decode process with one click.  You now do not have to click on the reports to see how it listed your grind, clean, or track.  It immediately sends you to the report screen with the details of what you just did so you can put the device away and get back to what you were doing.  You will not believe how easy this is now.
No extra charge
The apps are available at no extra charge.  We are happy to provide such a fast, easy, and affordable solution to you and your grocery stores.
Want a sneak peek of what it looks like?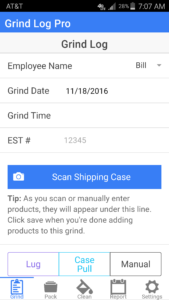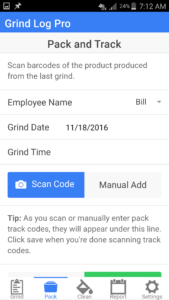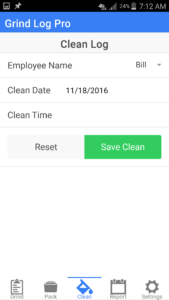 Contact us about any questions you have.  We are always happy to help.  For the current web app version of Grind Log Pro Click Here.