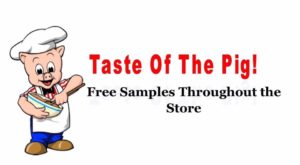 Join us at Piggly Wiggly Dunnavant Valley this Thursday November 7, 2019 3:00 pm until 7:00pm for our Taste of the Pig! Local Companies will be here sampling their products. See the list below for participating companies:
Blue Bell
Boar's Head
Coca-Cola
Golden Flake
Baba Java Roaster & Cafe
Graffeo Brothers Italian Sausage
Grateful Provisions
The Joyful Food Co.
Ladyfingers
Pia's Chicken Salad
Red Diamond Coffee & Tea
Uncle Clydes Gourmet BBQ Sauce
Forage Farmstead will have baby goats in the parking lot!
Stevie with International Wines & Craft Beer
Stephanie with United-Johnson Brothers of Alabama
And Tom with Gulf Distributing will be here for the wine and beer tastings.