The Manual Beef Grind Log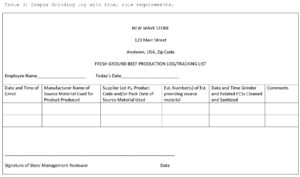 The USDA has provided an example of a manual grind log for you to use to record your grinds, case pulls, lugs pulls (if you add trim, etc.), and cleans.  It has a place for you to write in the date and time, a place for the Manufacturer Name of Source Material used for Product Produced, a place for Supplier Lot Numbers / Product code and/or date of Source Material used, a place for the Establishment Number, and a place for the Date and Time of Grinder and related FCSs are Cleaned and Sanitized.  It also has an area for the Signature of the Store Management Reviewer.  Each of these places need the right information written in them.  It needs to be legible and correct.  The information is pulled off of the case label which has a 128 barcode on it.  The 128 barcode has 44 digits that contain all the information you need except the Establishment Number.
Electronic Grind Log Solution – Grind Log Pro
SPECIAL NO CONTRACT PRICING: Sign up now and get Grind Log Pro for only $10 a week!
You can start using Grind Log Pro today!

Continue reading "Electronic Beef Grind Log vs. Manual Beef Grind Log" →